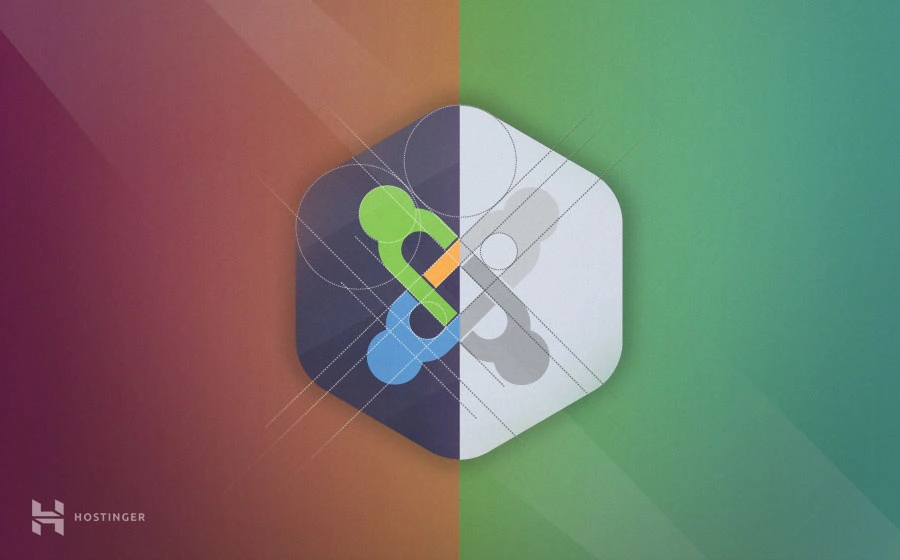 Joomla is an open-source content management system (CMS) that powers nearly 2 million websites on the internet.
The platform offers numerous advanced features, allowing you to easily make a website or an app.
Considered one of the best WordPress alternatives, Joomla supports various content types and custom fields, including gallery, calendar, and checkboxes. This allows you to create a dynamic website without using third-party plugins.
This article will provide a step-by-step tutorial on how to install Joomla and its core components.  It will also walk you through the content creation process and give a few tips on how to speed up your site.


Getting to Know Joomla
Joomla provides every tool that users need to manage, update, and publish content. Additionally, the platform allows you to build any type of website, be it for a personal or business project.
From site management to core enhancement, Joomla also helps extend your site's functionality with the vast amount of extensions available. They fall under these types:
Components – core extensions that you can modify from the back-end and view on the front-end of your site. Some examples are com_content, com_newsfeeds, and com_weblinks.
Modules – lightweight extensions or widgets that display certain content types, such as recent articles, article categories, or search boxes.
Plugins – pieces of software that provide additional functions such as adding a music player or social media share buttons to enhance your website's performance.
Templates – sets of design and layouts that control the site's appearance. A template defines how components and Joomla modules are shown on the website.
Languages – offers translation packs for creating a multi-language site.
Libraries – collections of function-related code that are used in modules, components, or plugins.
You can find them in the official Joomla! Directory and other third-party sources, such as Joomlart and Joomdev.
Because of the flexibility, many famous brands and organizations use this platform for their websites, including Harvard University, Linux.com, Guggenheim, MTV Greece, and the UNRIC.
Of course, this platform also has a steeper learning curve compared to other CMSs. Not to worry, as there are many articles, tutorials, videos, forums, and documentation to help you along.
2. Leverage Caching
Caching stores content in local storage. Users get the content from the stored cache rather than sending requests to the main server, resulting in a faster loading time.
With our Business plan and higher, you can easily enable object cache through hPanel. Here's how:
Log in to hPanel and click Websites on the navigation bar. Then, find your domain name and click Manage.
Installing Joomla
There are two ways to install this platform – automatically and manually.
Using Hostinger's Auto Installer
Most web hosting providers include auto-installers to allow you to set up software from the admin panel. On Hostinger's hPanel, users can access auto-installers under the Website menu.
If you use Joomla web hosting, the procedure will be the same.
Open the Auto Installer, find Joomla, and click Select.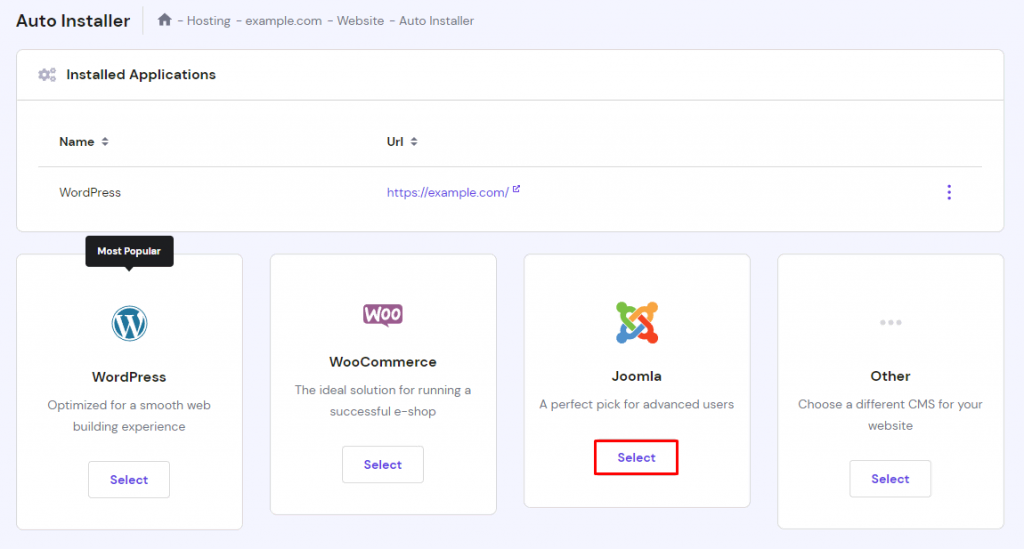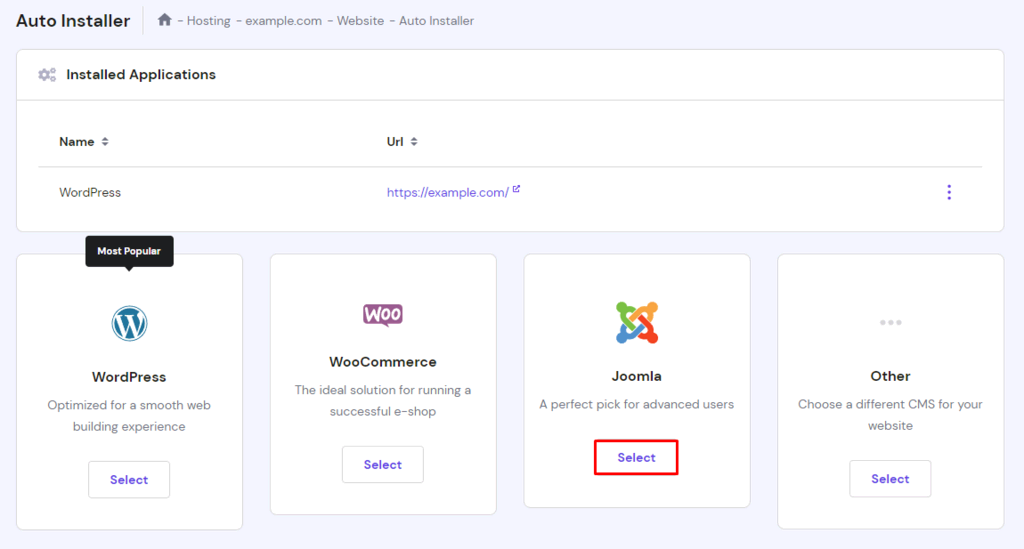 Enter your website credentials and select Next. Specify the configuration details, like your domain, preferred language, administrator email, password, and username. When you're done, click Install.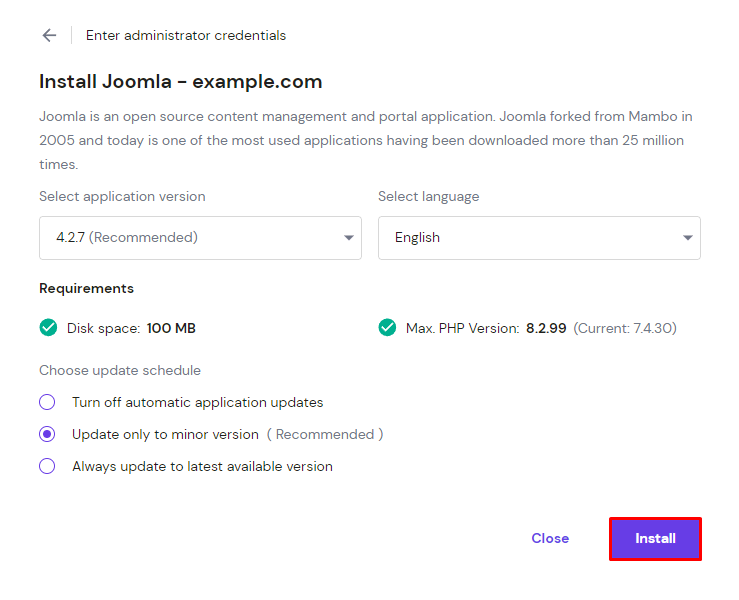 Once the installation is complete, you can log in to the control panel and start creating your Joomla website.
Pro Tip
Access the Joomla admin panel by adding "/administrator" at the end of your URL (e.g., www.mydomainname.com/administrator)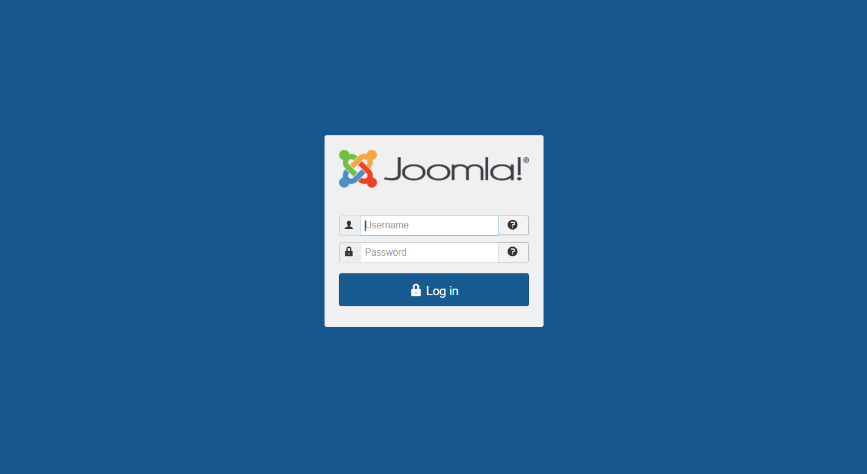 Installing Joomla Manually
Another way to set up Joomla is through manual installation. This method will require you to create a database to serve as storage for the content.
Before you proceed to the installation, download the latest version of Joomla from its official website.


Once the download is complete, access your web hosting control panel to create the database.
Navigate to your hPanel -> Databases -> Management. Define your database name, username, and password in the provided fields. Then click the Create button.


When your database is all set, upload the downloaded .zip file from your computer into your server using Hostinger File Manager. Choose the domain or access all files.


Open your public_html folder and click on the Upload Files button in the upper right corner.


Click File to select the installation package from your computer to begin the process.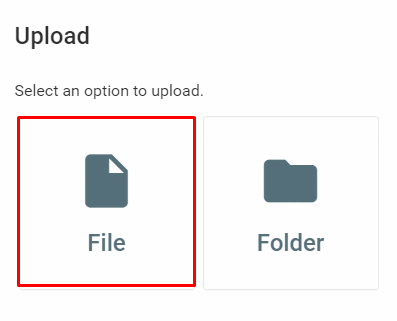 After the file has successfully been uploaded to the folder, you should see the file name on the list.
Extract the file to retrieve the content by right-clicking and choosing the Extract option.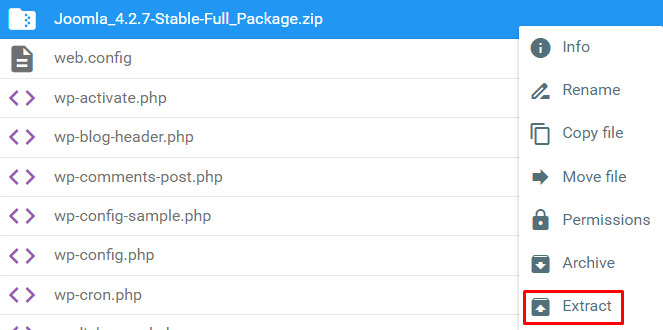 Access your domain name through any browser. This will take you to Joomla's Main Configuration page.
Pick your preferred language, then fill out the blank fields.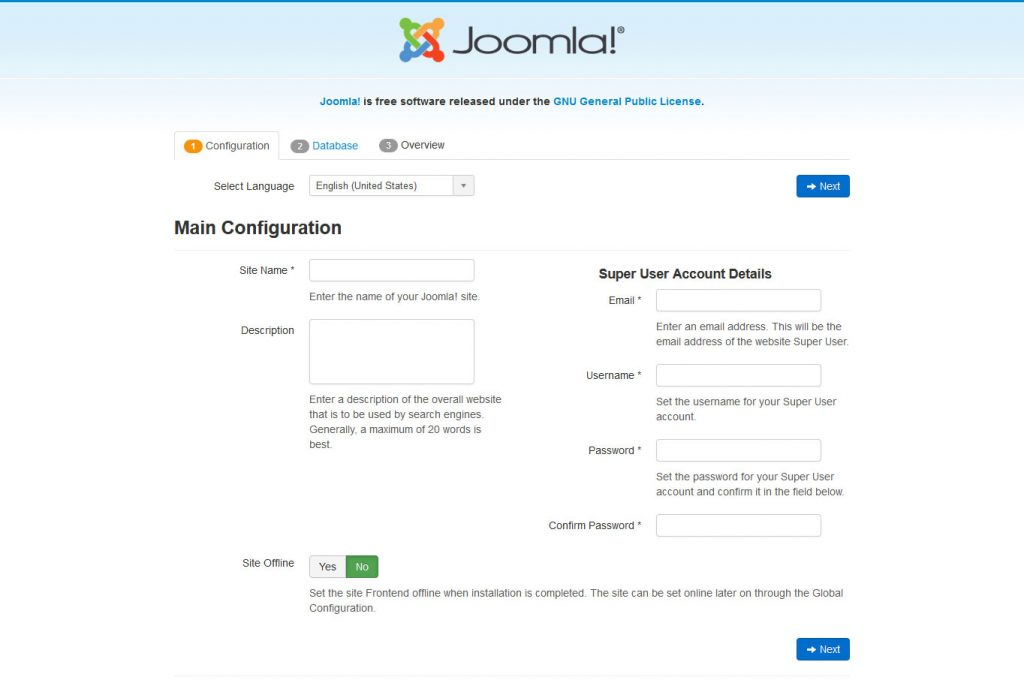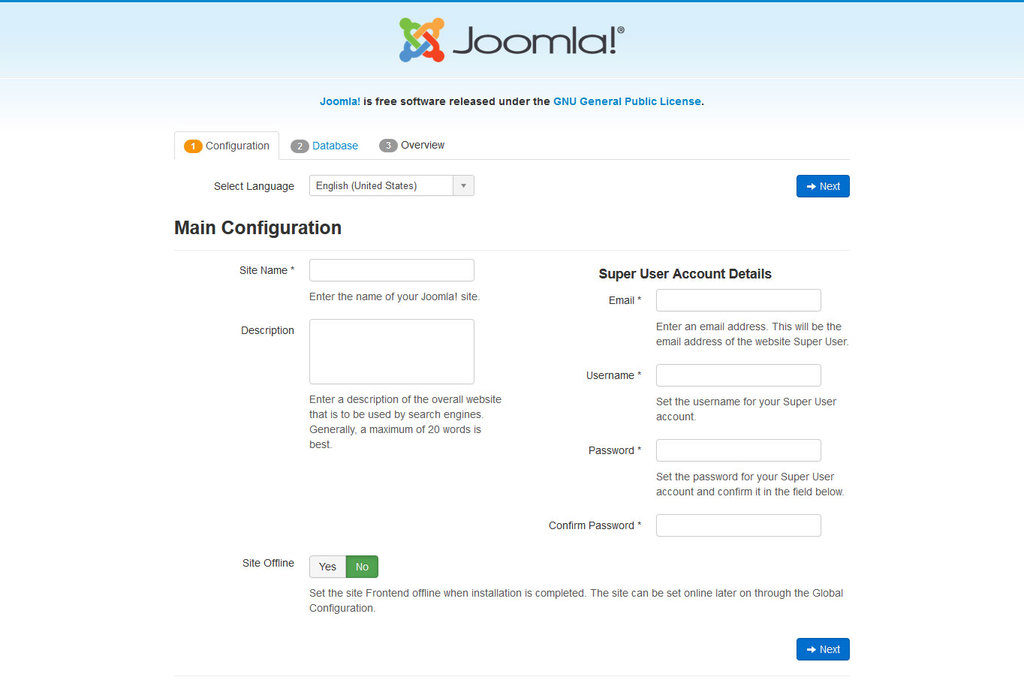 Input your MySQL database credentials from earlier steps.